Inniscarra Lake Fishing Information
Inniscarra Lake offers excellent all year round coarse fishing in a fantastic setting. Roach, Bream, Perch, Hybrids and Pike are the most common species.
Inniscarra Lake is one of two lowland lakes created by the Electricity Supply Board in 1956 and covers and area of over 530 ha. Not all the bank is accessible but there are many fishable sections to choose from.
Inniscarra Lake is particularly suited to coarse angling with its gently sloping banks and optimum water depths. A wide range of fishing tackle and techniques can be used. The most popular methods are pole fishing at lengths between 4m and 13m depending on depth and conditions for the roach and hybrids, and also feeder fishing with open ended feeders which can be very effective for Bream, Hybrids and Roach. Reel line 4lb to 6lb and hooks ranging in size from 10 to 16 are most often used. Baits for both methods are red maggots, casters, worm and sweetcorn. The region's mild climate allows year-round fishing and weather conditions generally present little problem to the angler.
How it all started!
The South Western Regional Fisheries Board introduced 200 adult Bream into the upper Carrigadrohid Lake in 1974; however it was not until 15 years later that large stocks of Bream were discovered in the lower Inniscarra Lake. Today there are shoals of Bream throughout the lake plus huge numbers of Roach, Hybrids and Perch.
Much of Inniscarra Lake remains relatively unfished and is sure to throw up a few surprises for the enterprising angler.
Popular fishing spots:
Innisleena – 1 mile west of the Inniscarra Dam on the north bank (stop at the small parking area beside the waters edge and fish the deep water to the east of the disused roadway).
The Dripsey Arm (Garden Centre) – West of Griffins Garden Centre, turn down into bankside car park, fish either east or west from car park.
The Greenway – The small bay  600 yds east from Rooves Bridge. (Car park and pathway with stiles).
The Fish Farm – Easily accessible concrete platform, with good parking.
St. John's (The Graveyard) – Located on the way from Coachford to Macroom, turn left opposite the cemetry.
The Caumruad – An easily accessible shallow weedy area (beside the main road  east of  Carrigadrohid Village).
Carrigadrohid – Fish both banks upstream of Carrigadrohid Castle Bridge. This section varies in water depth and fishes best when the water is high with minimum flow. FOR YOUR SAFETY LISTEN FOR THE HOOTER WHICH IS SOUNDED TO INDICATE THAT WATER IS BEING RELEASED FROM THE DAM.
Loughleigh
Gemma's Field – Over Rooves Bridge, park on the left, Cross stile and walk down the bank.
Clashanure – This beat is undeveloped and difficult to reach. It is only recomended for those who prefer wild style fishing.
Walshestown – This beat is also undeveloped and difficult to reach. It is only recommended for those who prefer wild style fishing
'LEAVE NO TRACE' "This is an area of scenic beauty and anglers are requested to keep it so by taking away their rubbish."
Species
Roach are widespread and are caught in large numbers throughout the lake on the feeder, pole and whip. The Bream are shoal fish and constantly on the lookout for food. The feeder is the preferred method for these fish.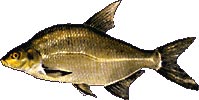 There are big shoals of skimmer bream between 0.5kg and 2kg. There are still plenty of bigger Bream though the conditions have to be perfect to catch these wary fish.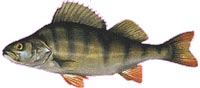 The Perch have made a big comeback in the last couple of years and there were a good number of fish between 0.5kg and 1kg caught in 2017. They can show up anywhere on the lake but The Graveyard and The Greenway will probably give you the best chance of the bigger specimens. At times there can be so many Perch in your swim it can be difficult to catch anything else!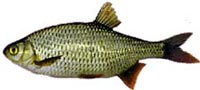 This water contains enormous shoals of rudd which patrol the margins in such numbers that catches of 100lbs are easily possible. During '97 & '98 the rudd seemed not so plentiful but did turn up on occasions to give a lucky angler a red letter day. There is no particular area noted for rudd, they just turn up everywhere. They average about 3-4 ozs, fish over 1lb are rare but do show from time to time. Best known catch was 550 fish (about 200lbs) in 1995 to a U.K. angler fishing at St. Johns using a 4m whip.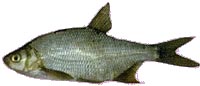 The best hybrid to date is a fish of 4lb.1oz. caught by John Murphy of Cappoquin at Rooves Bay in 1996 but fish in excess of 3lbs are caught regulary usually whilst catching good bream. Sally's Hole & The Shallows both at Carrigadrohid are noted hybrid areas especially in April/May and early June, but good fish turn up regulary at all the usual areas during the warmer months. Hybrids appear to swim with the shoals of bream of around the same size, so if you are catching 1lb bream you are likely to catch 1lb hybrids also.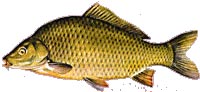 Carp are only rarely caught on the lake although fish well into double figures have been spotted. If you are hoping to catch one you should probably head for the Concrete section at Innisleena. This is the one section where that are often spotted and sometimes caught!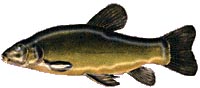 There are only a few tench in the lake. Many anglers have fished the lake for years and never seen one!.

This was once a prolific pike fishery, anglers looking for this species should go to Carrigadrohid Lake near Macroom for better sport.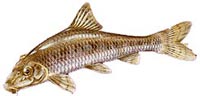 Very big shoals of Gudgeon can often be seen, particularly at The Garden Centre. They are very small and can be surprisingly hard to catch.
Fishing Method
With deep water close in, the pole or whip is an ideal tool especially when the water is coloured. A quivertip rod and an open end feeder is another reliable method. For those who prefer to use a float the Polaris is ideal for this fishery as the bottom slopes away quickly and this float automatically adapts to the changing  depths.
All the usual baits will catch including maggots, worms, casters, bread, and corn.